Stamford, CT: The wealth management experts at Diddel & Diddel are well attuned with solutions to help clients make sound financial decisions. They offer financial planning, life insurance, tax reduction strategies, and business insurance solutions. Their life insurance plans are uniquely structured to deliver benefits beyond the traditional preserve. The benefits include college funding, charitable giving, personalized private pension plans, and legacy funding. Diddel Wealth Management Stamford is built on the foundation of a thoughtful client relationship. Their unique work process entails getting to know the clients, creating a game plan, making it happen, and performing review and adjustment.
Established over 37 years ago, Diddel & Diddel is on a long-term mission to provide excellent services in everything they do. The independent and objective company is happy to provide experienced and skillful financial planners to support clients every step of the way. To showcase their independence and objectivity, the team is fully committed to representing the clients' interests rather than companies'. They are also keen to deliver objective and unbiased recommendations. The business is owned and managed by Scott Diddel.
Creating a customized financial plan is Diddel & Diddel's number 1# priority. Working with them provides an opportunity to obtain a sustainable savings plan, fix bad spending habits, get valuable tax advice, and investment monitoring and accountability. For people with problems managing personal finances, the company offers a sustainable savings plan to improve the consistency of saving money. A financial check-up has been co-opted in the plan to fix bad spending habits. These services are essential because many entrepreneurs and wage earners experience challenges saving, investing, and growing money.
The financial advisors at Diddel & Diddel are passionate about providing life insurance and wealth management solutions to secure the client's financial future. Their life insurance plans are tailored to meet the clients' specific objectives and goals. For instance, life insurance provides death benefits and estate tax mitigation alongside a framework to generate incomes and capital growth bereft of tax worries. Asset management is another essential component of wealth management services as it incorporates active asset management and strategic investment management.
For recent retirees, Diddel & Diddel provides an answer to all critical questions on planning and spending retirement years. Their retirement plan advising program takes care of all financial worries by creating viable financial plans. Planning For Retirement also introduces clients to terms like Tax Effective retirement income, Legacy Planning, and Long-Term care Planning.
To speak to experienced and licensed wealth managers at Diddel & Diddel, call (203) 708-9033 or visit the company at 102 Southfield Avenue, The BoatHouse, Stamford, Connecticut, 06902, US. The company has the right team and solutions to help clients manage their finances efficiently and sustainably. 
Media Contact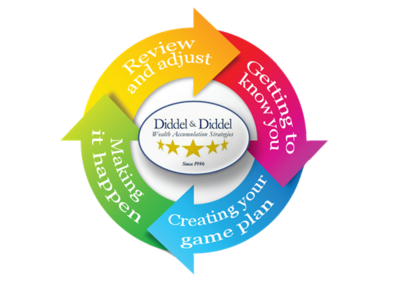 Company Name
Diddel & Diddel
Contact Name
Scott Diddel
Phone
(203) 708-9033
Address
102 Southfield Avenue, The BoatHouse
City
Stamford
State
Connecticut
Postal Code
06902
Country
United States
Website
https://www.diddel.com/